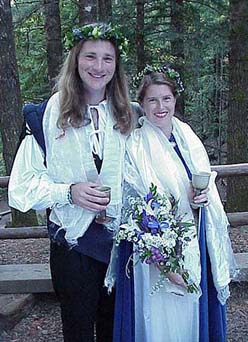 On Saturday, September 25, 1999 Dan and Zoe got married in the Mendocino Woodlands.

The photos are in 5 different formats, all taken on my Sony Mavica FD-91 digital camera:
Standard Pictures (like the one of Dan and Zoe to the left)
Panorama (large sweeping photos, some of which are 360s. Large files.)
3D (These require a special viewer which most of you won't have. You can still view them, they just won't be in 3D)
QTVR (Quick Time Virtual Reality. These 360° photos are interactive. You can pan around in a circle, zoom in and out, and suck a lot of bandwidth. They are very big files, usually around 450k. They require a plug-in for your browser)
Mpgs (movies) These are no more than 15 seconds of video at 320 x 240. Not very big, but they are fun. These are around 1.4mb each.