---
The Norbulingka Institute
---


The Norbulingka Institute is a registered trust under the Chairmanship of His Holiness the Dalai Lama. It was founded in 1988 by the Department of Religion and Culture of the Central Tibetan Administration (CTA) in an effort to promote and preserve Tibetan culture in exile.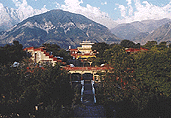 Wide view over Norbulingka complex
It derives its name from the Dalai Lama's summer residence, the Norbulingka, situated two kilometres from the centre of Lhasa. This residence was established by the 7th Dalai Lama, Kalsang Gyatso in 1754, in a period of political instability. Fearing for the future of Tibet's cultural heritage, Kalsang Gyatso established institutes of arts and sciences to ensure its continuity. Today, with Tibet going through one of the darkest periods of its history, it is essential that a similar initiative be taken to preserve the roots of Tibetan culture in exile.

Painting a Thangka
Following the Chinese invasion of Tibet in 1950, Tibetan culture was endangered by the systematic destruction of all features of Tibetan identity. Monasteries were destroyed and looted of their treasures. Millions of books were burnt and precious statues melted down. The holders of centuries of accumulated knowledge were not spared; scholars were branded reactionaries and imprisoned, craftsmen's guilds were disbanded and the artists were forced to abandon their trade. Although in 1980 the trend was reversed and religion once again became more openly tolerated by the Chinese authorities, the damage was done. Former institutions of learning were not re-opened and a mere relaxation of disapproval cannot bring Tibetan culture back from the brink of extinction.

Statue makers shaping Je Rinpocheyºs face
Norbulingka Institute provides training, employment and basic care for many qualified Tibetan refugees. Here, concerned individuals find a suitable environment and necessary resources to preserve and develop the Tibetan arts and literary tradition. We are a vibrant community living and working to protect our endangered culture under the watchful eyes of His Holiness the Dalai Lama.
The Norbulingka Institute comprises the Centre for Arts, the Academy of Tibetan Culture, the Literary and Cultural Research Centre, the Library and Publications. This Web site contains information on all of these and more. Please use the menu below (replicated in the left-hand column throughout the site) to find your way through the Norbulingka.
---
Norling Home | Contact Info

© Copyright 1998, The Norbulingka Institute